That's just one of the findings of new research that scientists say gives the most reliable calculation yet of how what we eat impacts our planet.
The Oxford University study is the first to pinpoint the difference high- and low-meat diets have on greenhouse gas emissions, researchers say.
The meat industry said the analysis overstated the impact of eating meat.
Prof Peter Scarborough, of Oxford University, who led the new research, told BBC News: ''Our results show that if everyone in the UK who is a big meat-eater reduced the amount of meat they ate, it would make a really big difference."
"You don't need to completely eradicate meat from your diet."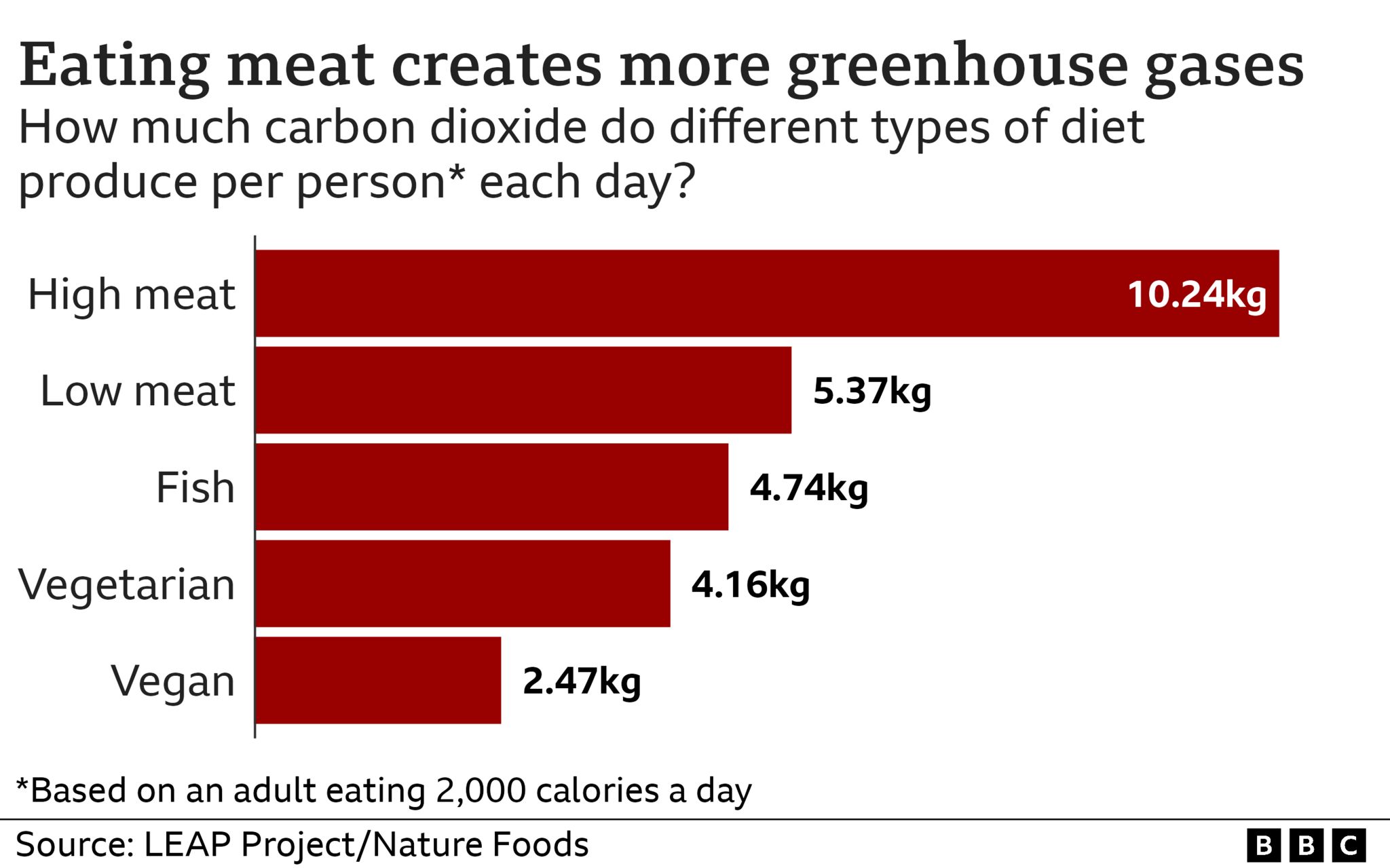 Prof Scarborough, who is part of the Livestock Environment And People (LEAP) project surveyed 55,000 people who were divided into big meat-eaters, who ate more than 100g of meat a day, which equates to a big burger, low meat-eaters, whose daily intake was 50g or less, approximately a couple of chipolata sausages, fish-eaters, vegetarians and vegans.
While it is well established that producing meat has a bigger environmental footprint than plant-based food, it has never been calculated in such detail, according to Prof Susan Jebb, who is head of the Food Standards Agency and a world leading nutrition scientist at Oxford University. She was not involved in the research.
"What makes this assessment different is that it takes real people's diets and is based on the various production methods we have at the moment," she said. "The researchers have assessed at a much more granular level than has been done before the environmental footprint of what they are eating."
The research shows that a big meat-eater's diet produces an average of 10.24 kg of planet-warming greenhouse gasses each day. A low meat-eater produces almost half that at 5.37 kg per day. And for vegan diets - it's halved again to 2.47 kg a day.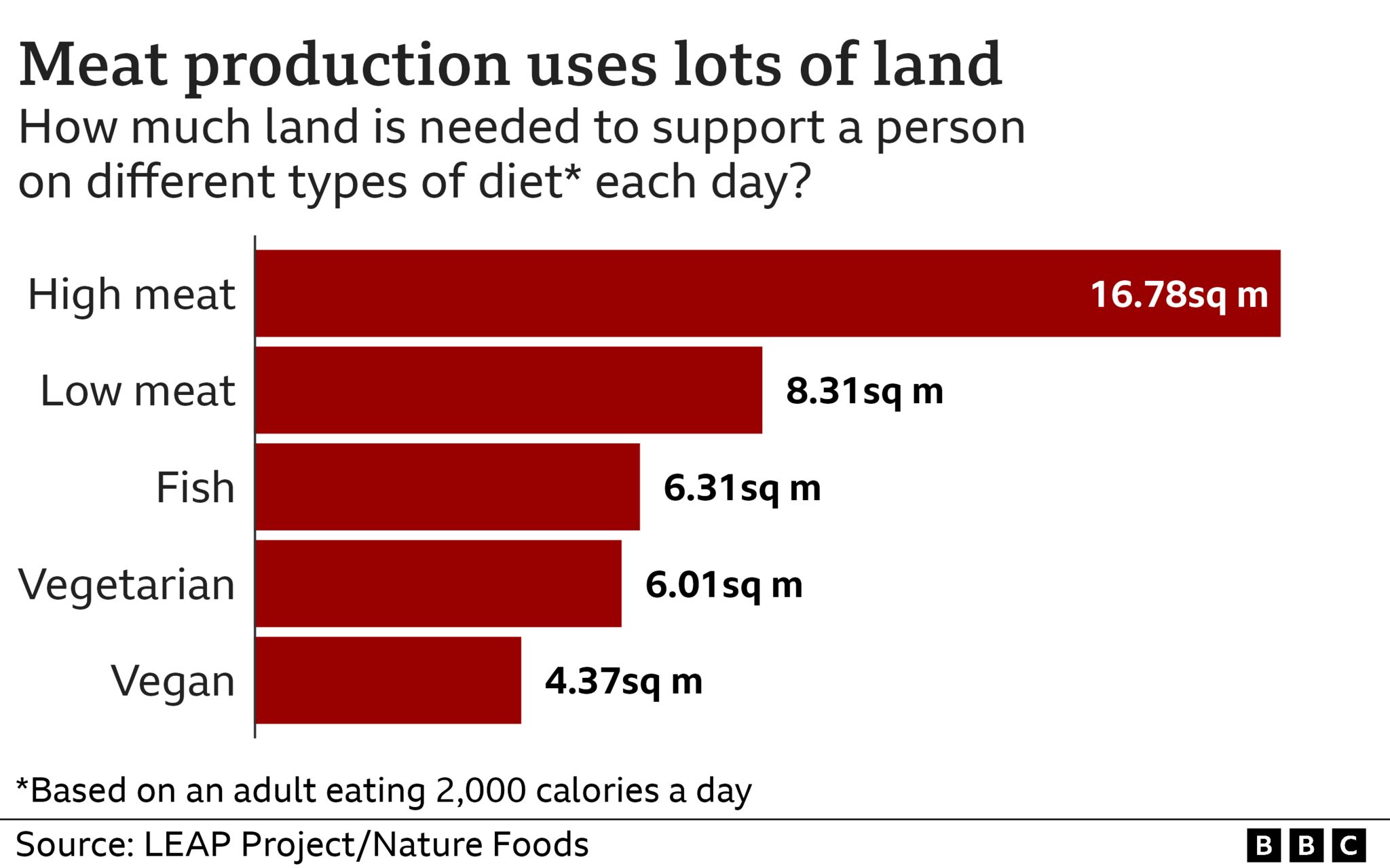 The analysis is the first to look at the detailed impact of diets on other environmental measures all together. These are land use, water use, water pollution and loss of species, usually caused by loss of habitat because of expansion of farming. In all cases high meat-eaters had a significantly higher adverse impact than other groups.
Britain has some of the most sustainable methods of meat production. And the sector employs nearly 100,000 people making £9.5bn a year for the UK.
Nick Allen, CEO of the British Meat Processors Association says that such assessments were incomplete.
''One of the frustrations with a report like this is that it looks just at the emissions from livestock production. It doesn't take into account that carbon gets absorbed into the grassland, trees and hedgerows [on farms]. If they took those sums into account you would probably have a different picture,'' he said.
In response Prof Scarborough said that a number of studies, including this one, had concluded that the taking up of CO2 by grasslands only have a ''modest impact''.
A separate study also published in Nature Food in 2021 concluded that food production was responsible for a third of all global greenhouse gas emissions. And an independent review for the Department for the Environment Food and Rural Affairs (Defra) called for a 30% reduction in meat consumption by 2032 in order to meet the UK's net zero target.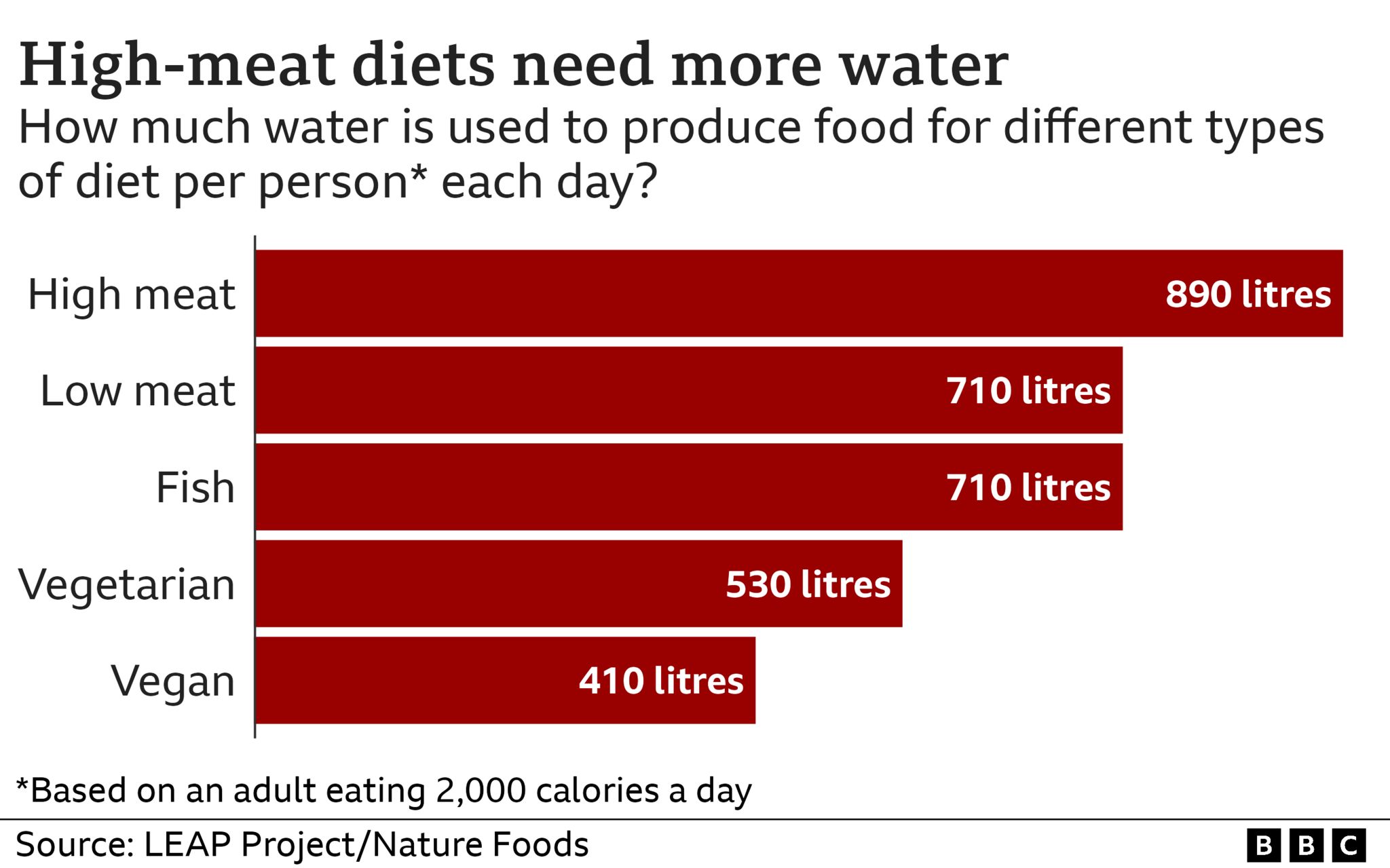 But according to Prof Jebb, little has been done to achieve this aim.
"In the UK it is still not accepted that we are eating an amount of meat which is inconsistent with our environmental goals. At the moment, the conversation is not how we are going to do this, but whether it is really necessary," she said.
"In the case of obesity people know they shouldn't be eating confectionary cakes and biscuits. They may not want to hear it, but they know it to be true. With meat they are not wholly convinced."
She adds that as well as encouraging people to change their diets, the government also needs to support farmers through the transition, by protecting their livelihoods.
"Our farmers are trying pretty hard to be sustainable, more so than in many other countries, and yet we in the UK are putting... more pressure on our farmers to change, and that is pretty tough if you are a farmer," she said.
In response a Defra spokesperson said ''people should make their own decisions around the food they eat".
"Achieving the net zero target is a priority for this government, and whilst food choices can have an impact on greenhouse gas emissions, well-managed livestock also provide environmental benefits such as supporting biodiversity, protecting the character of the countryside and generating important income for rural communities."
The study has been published in Nature Food