SINGAPORE — On March 1, Nutrition Technologies announced that the Ministry of Agriculture approved the company to export its insect-based ingredients to the European Union and United Kingdom. The approval greatly expands Nutrition Technologies' opportunities in the insect-based pet food sector within Europe.
Founded in 2015, Nutrition Technologies produces sustainable ingredients, including protein meal, oil and frass, using beneficial microbes and black solider fly larvae (BSFL). The company operates a GMP- and HACCP-certified facility in Malaysia that uses a low-energy, zero-waste model to grow its insects and develop its ingredients. The facility converts about 60,000 tonnes of organic waste and leverages the tropical
Malaysian climate to grow insects, meaning it can produce the same high-quality insect ingredients as many European or North American manufacturers, but at a lower product cost, according to Nutrition Technologies. Previously, Nutrition Technologies' insect-based ingredients were only available to customers throughout the Asia Pacific region. In June 2022, Malaysian insect producers became eligible to export their materials to the European Union. In mid-February, Nutrition Technologies received official approval to import its products to the EU, making it the first Malaysian company to receive approval.
"This is a significant step forward in giving European pet food manufacturers more sustainable options in their choice of feed ingredients," said Nick Piggott, co-founder and co-chief executive officer, Nutrition Technologies. "While there is a rapidly growing demand for sustainable pet foods, there is very little product available in Europe. This development opens the door for new manufacturers to release insect-based products, and for existing manufacturers to both reduce their costs and improve their environmental footprint."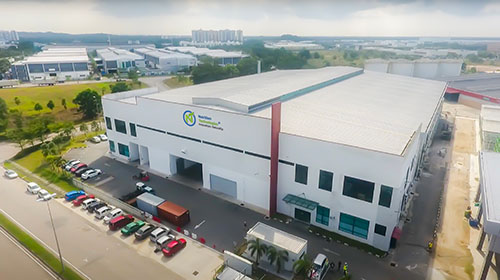 Source: Nutrition Technologies
Nutrition Technologies products include Hi.Protein®, Hi.Frass® and Hi.Oil®.
Hi.Protein is a light brown powder with a nutty aroma. It contains a high crude protein content of 50%, crude fat of 20%, crude fiber of 15%, ash of 15% and moisture of 10%. Offering various functional benefits, Hi.Protein can be used in dog and cat food applications, as well as in diets for pigs, wild birds, reptiles, fish and shrimp. The ingredient is also hypo-allergenic, making it suitable for pets with food sensitivities and allergies.
As well as nutritional benefits, Nutrition Technologies' insect ingredients can provide pet food processors sustainability benefits. According to the company, by switching to insect-based proteins, processors can cut down on their greenhouse gas (GHG) emissions, as tropically farmed insects produce just a fraction of GHG emissions compared to those produced by traditional meat sources.
The approval by the European Union and the United Kingdom is expected to help further growth of the insect protein sector. According to Nutrition Technologies, the sector was estimated to be worth $343 million in 2021 and is expected to grow to $1.3 billion by 2027 with a CAGR of 26.5%, as more processors look to insect-based ingredients to feed growing animal populations.
To meet this expected growth, Nutrition Technologies raised $20 million in investments in September 2022 to accelerate its R&D, expand into new markets and more. In May 2022, the company partnered with Pet World Nutritions to launch the first sustainable commercial dog food in Malaysia formulated with BSFL.