In a boost to Australia's nascent black soldier fly (BSL) industry, University of Queensland research has found that the fly's larvae, along with canola meal and lupins, would be viable alternatives to the import of soy for feeding the country's layer flocks.
The research, supported by local egg marketing company Australian Eggs, followed an extensive carbon assessment of the country's egg industry conducted in 2021.
The assessment identified that the highest contributor of carbon to the egg sector's supply chain was feed. Soybean meal, in particular, was highlighted, with its relatively high carbon footprint and it being increasingly shipped from South America.
Dr. Elham Assadi, senior lecturer in animal science and production at the university and responsible for conducting the research into layer and pig diets, commented that sourcing quality and sustainable feed ingredients at acceptable prices had become a major challenge and that, while finding lower carbon alternatives was initially challenging, it was pleasing to see that there were viable options worthy of further exploration.
The findings would appear to give a green light for BSL production and, according to the Insect Protein Association of Australia, insects are already permissible as a feed ingredient in the country. How they are farmed, what waste streams can be used and how they must be processed and labelled varies in each state, but this latest research would appear to be positive.
Emerging industry
All industries need to review their carbon footprints and work to lower them, and BSL would appear to offer a good route for Australia's egg producers to boost their environmental credentials. The difficulty for the sector, however, is that there is still no commercial production of feed using the larvae.
The body of work around using the larvae, however, continues to grow. BSL larvae are being used for waste management, transforming human food waste, and studies have been conducted into whether they could be used for turning piggery and chicken house waste into slow-release fertilizer.
Forecasts suggest that the BSL industry in Australia could be worth around AUS$10 million (US$6.9 million) per annum within five years, but there remain obstacles to the industry's development. These include, among other areas, securing the volume of waste required to feed the larvae, bio-security and attracting investment. Nevertheless, progress continues.
New knowledge hub
Early last year, the Emerging Insect Technology Hub (EIT-Hub) was established by research funding body AgriFutures Australia, the Australian Centre for International Agricultural Research (ACIAR) and the International Centre of Insect Physiology and Ecology (icipe). The aim of this knowledge sharing hub is to accelerate insect farming as an emerging industry in both Africa and Australia.
Its initial focus is the creation of a gold standard manual for the production and processing of BSL larvae. This will be a digital, open access publication which should fill a knowledge gap around best practices, providing a vital resource for industry participants worldwide.
Currently, the industry in Australia tends to look to the European Union body the International Platform of Insects for Food and Feed (IPIFF) for policy and guidelines.
However, the three founding partners of the hub have a wealth of knowledge to draw on, having worked on insect projects in Africa and Australia since 2015.
Commenting on the hub's establishment, Dr. Anna Okella, ACIAR research program manager for livestock systems, said that research in Eastern Africa had been conclusive: rearing insects for animal feed had provided a nutritious high-quality feed for fish, pigs and poultry and showed various environmental benefits, as well as being scalable in various settings.
She continued: "While the contexts between Africa and Australia vary, any new or emerging industry, regardless of setting, faces a steep learning curve — governance, legislation, quality assurance, sharing of research findings — that needs navigating. It is these common interests that will be the focus of the new hub."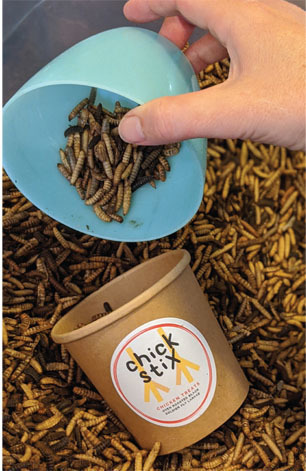 Starting small
While black soldier fly production in Australia may still be in its infancy and a few years away from being large enough to support commercial layer feed production, various companies are already exploring different uses for insects including their use in dog food, waste management and finding value in frass, and aquaculture.
In South Australia, insect protein company Mobius Farms is already selling dried larvae on a small scale for backyard chickens and other animals.
The company is tackling food waste through BSL larvae, and the result is treats for backyard chickens, frogs and lizards. For chickens, its product is marketed as Chick Stix, which are dry roasted larvae.
Mobius has a 360-degree recycling process, collecting food waste from commercial eateries and feeding it to the larvae. The larvae consume and recycle this into an organic fertilizer, which is returned to local farms, while the larvae are transformed into petfood.
In 2018, Co-director Jeannine Martin attended the first Insects for Food and Feed Summer School, a week long program for those interested in insect protein, hosted by Wageningen University, the Netherlands. Bringing that knowledge home and building on it further resulted in Mobius Farms.
Her initial interest in BSL arose through researching solutions to piggery waste management. However, using manure as an insect feedstock is prohibited in Australia, and Mobius Farms is, instead, concentrating on small volume, high margin products for the petfood market; and the decision to include backyard chickens has proved rather fortuitous for the company.
Martin say: "During COVID shutdowns, backyard chicken ownership boomed, and people became interested in food sustainability and backyard gardening. Chick Stix was launched at this time with great success. We have many loyal customers who buy Chick Stix on a regular basis because they want something that is nutritious and sustainably produced." Feeding Chick Stix, she continues, results in stronger eggshells, faster recovery from molting, cleaner eggs and healthier chickens.
While Australian consumers' attitudes to product from animals fed on insects remains unknown, the success of this product, albeit small scale, would suggest a degree of enthusiasm.